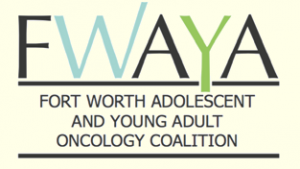 The following was provided from the FWAYA website.  We encourage you to visit them to learn more about their mission!
Cancer is the number one disease-related cause of death in adolescents and young adults. There have been minimal improvements in cancer survival for this age group over the last 25 years. AYAs suffer from disparities in access to care, resources and support.
The FWAYA is there to change that. The Fort Worth AYA Oncology Coalition brings together AYAs, health professionals and the community in a unified effort to support young people before, during, and after cancer. They are committed to ensuring all AYAs with cancer in our community receive comprehensive and age appropriate care of the highest standard via access to health services, education, support and resources. They will support health care professionals, and create awareness in the community on the unique needs of AYAs.
The goal: an impassioned community, empowered to improve care, until cure.